Badger's eye view: Dancing with paint and ideas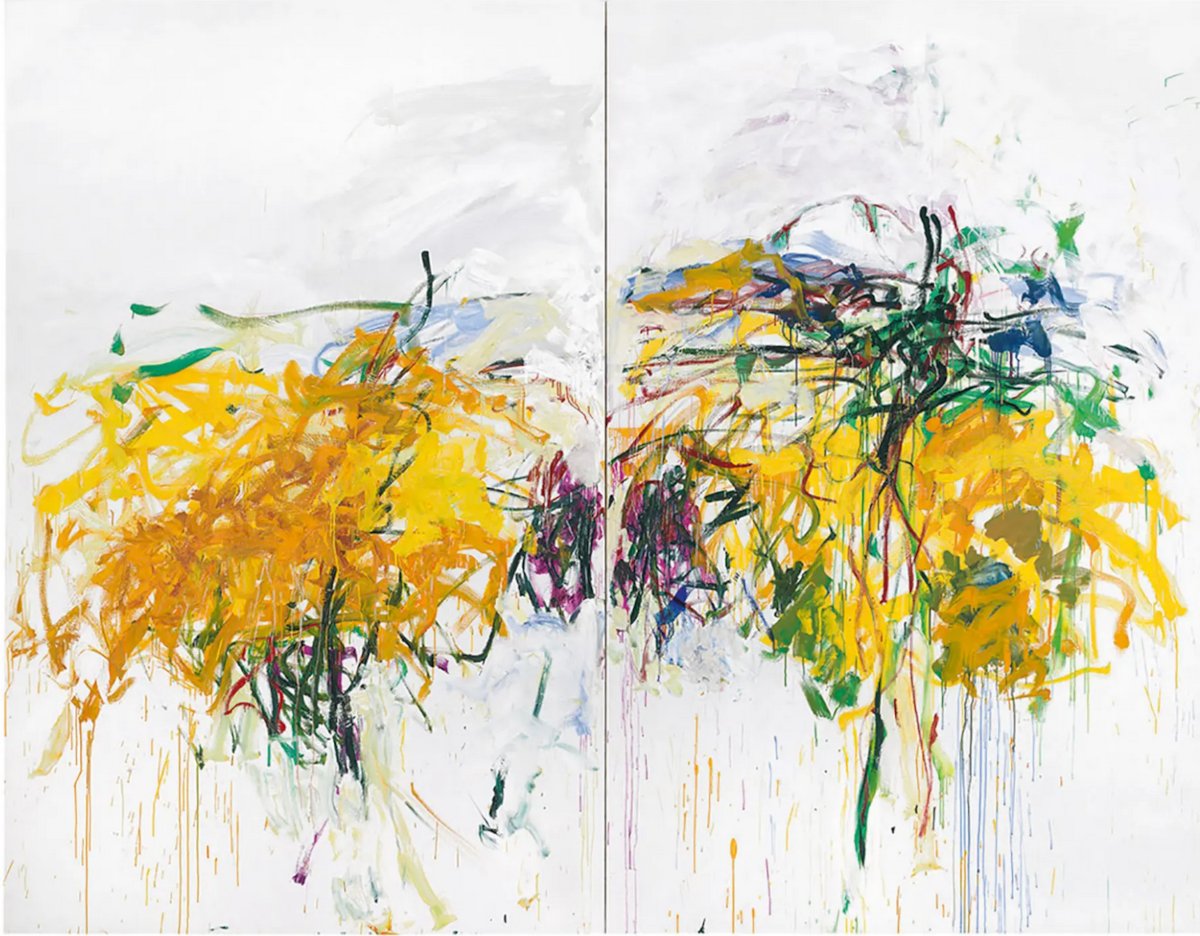 Main image: Joan Mitchell's Untitled (1992), from the Komal Shah and Gaurav Garg collection © Estate of Joan Mitchell, courtesy of Cheim & Read, New York
Old fartdom means I have many boxes with "things" filed away. Old meals, old romance, old jobs, old work, old comics, old ideas, ruminating through the dusty boxes is a great way to avoid today's rain. My Abstract Expressionist box is shoved to the back and not paid attention to much, there is other art I prefer. So when my wife and I walked into the show at San Francisco's Museum of Art for a break from pandemic isolation, neither of us knew what we were getting into.
We went back five times, there was a sublime mastery of paint, gesture and making art that just demanded our attention. Mitchell's work may start in feelings derived from landscapes she lived in, but then she made paintings.
Art shows often read as uncomics, each work in relation to the next. What is the feeling here and why is it different then the last work? As a cartoonist it's a great way to appropriate ideas wandering through an art show, putting the work together into a bigger comic. But Mitchell made uncomics intentionally, her large epic paintings are constructed out of panels, separate canvases, placed to make a whole image that you use as one way into the images.
Making a thought with two moments of painting, that's an uncomic. Thought starts with a positive negative or neutral feeling tone. For me the her brushstrokes by there richness make me want to look deeper.
Untitled is two-paneled, daffodil yellow and a richer orange yellow flower of gesture, each centered on the canvas floating in a neutral space. Composition wasn't a Mitchell thing, in terms of shapes cleverly arranged. I'm not sure she had much agenda outside of the feeling of the painting. Putting the two panels together is asking for us to compare the sides and make judgments there.
Her left-right comparison makes us look at the process of choice and how the brushes of paint strokes feel. Green strokes at the top of the left flower combine into a whole dialogue on the right. As we add experiences (brushstrokes), is it growth? Is it a fight that develops from one sharp comment I disliked?
This crossing green and purple smashing down the flower of the yellow? The brushes used for the green long pointed they do snap across the canvas unlike the yellow daffodil strokes painted with the slowness of the flats. It's Mitchell's gesture recorded with paint, my fabrications driven by her actions.
It's not a logical pattern, not a sequence, just two different sets of brushstrokes coming out of the same colors. The muddy green on the left dances up and rises to the top on the right. The two purple green scribbles left and right make them a mirror image but not a mirror image. They're so not a mirror image, the two panels.
Much in the way we interpret other actions we have to look and interpret paintings. Flats on the right, the yellow mixed with green, brush choices grounded in reality. Just a left-right comparison, simple against complex, two separate positions in relation to the two flowers. Playing with this is how you fabricate a meaning for the painting you see.
I'm looking at it, turning what I see into my own consciousness. Is this what Mitchell thought? Probably not, she didn't think words were the right way to define pictures.
Mitchell's gestures live in her paintings. They make me want to dance with her over and over again.
Next: Probably more on Mitchell!